Since 1958, DYMO has been dedicated to making your life simpler – and now we're taking it a step further with our frustration-free, business-labelling starter kits, coming soon!
Need to organise your workspace? Left confused as to which solution is best for you? Or are you spending too much on labelling, when it could be a lot cheaper?  Our starter kits take the guesswork out of choosing the right solution for your labelling needs.
With years of innovative labelling experience under DYMO's belt, you can count on getting the best solution for your business's labelling needs.
DYMO is now offering two alphanumeric LabelManager starter kits: the LabelManager 160D starter kit, and the LabelManager 210D starter kit. The 210D label-maker lets you save up to nine frequently used labels and it has a one-button function to create 10 copies of a single label, while the 160D is an entry-level model.
Both starter kits come with three starter-roll tapes as part of the kit:
12mm x 3m black on white tape
12mm x 7m black on white tape
12mm x 7m white on black tape
These tapes are our top sellers, and allow up to two-line printing on 12mm-width tape. Made from highly durable and removable polyester, our tapes are heat/cold-resistant, UV-resistant, and oil- and water-resistant. All DYMO labels use thermal transfer technology, so they don't fade or smudge.
If you need broad-format labels, and you're looking for a printer that can create barcodes, then our LabelWriter 450 Turbo starter kit is the one for you.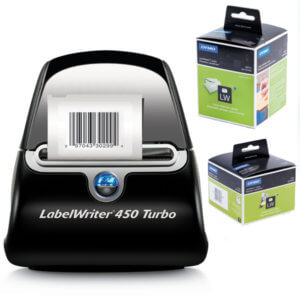 This kit comes with 260 address labels and 1 000 multipurpose labels. These labels are made from paper, however, they stick to a variety of surfaces, like glass, stainless steel, textured ABS, and wood, and they can withstand extreme temperatures. With the LabelWriter 450 Turbo starter kit, you can create your own templates, and add on barcodes, images, and logos. The software is compatible with Microsoft Office, so you can import from various sources to create professional labels for your business. Simple, and cost-effective.
Choose the right labelling solution for your business needs – grab one of our business-labelling starter kits today, and start making your life simpler with DYMO.